My editor for Dominion Over All sent me an email this week: "This video made me think of Zak." The video she mentioned is below.  Zak is the protagonist of my YA fantasy novel about a 13-year old boy who is commissioned by the animal kingdom to speak to the United Nation's Conference admonishing the world leaders to stop polluting our world.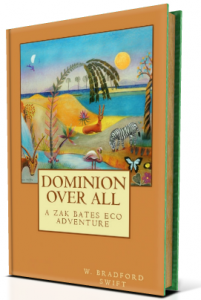 While I remember learning about the U. N.'s Conference during my research, I only heard about Severn Suzuki, the young girl in the video this week.  As I watched, I was moved on several levels — by the power of her words and by the synchronicity of her speaking at the same Conference that I had Zak speak at in my fantasy world.

I originally wrote
Dominion Over All
in 1992-93. I wanted it to be both entertaining and enlightening and to make a difference in its own way. This year I decided it was time to quit waiting around for some agent or publisher to magically appear and to start putting my visionary fiction out into the world because we're running out of time, so I revised and updated it.  I feel we all need to do our part for the planet and for our fellow beings with whom we share this earth.
Already I'm seeing the effects of my decision. I doubt I would have seen this video or heard of Severn if I'd not taken action.  I share this video in the hopes that we all can become more conscious and proactive — to paraphrase Severn, "to stop breaking things we don't know how to fix."
I invite your feedback with your comments below.