In 2009 I published From Spark to Flame: Fanning Your Passion & Ideas into Money-making Magazine Articles that Make a Difference. The book outlines a proven, systemic process that I developed over the past 20-plus years that I've used to publish well over 350 articles in dozens of different national and regional magazines, and that has resulted in thousands of dollars of income for my family and me.  I've taught this process in live classes, as well as developing a group of Visionary Writers On Purpose who used this process as part of our foundation. Yes, I'm pretty proud about the difference this process can make for aspiring writers.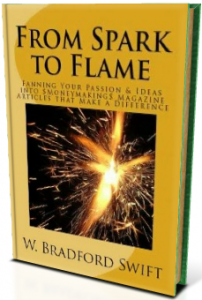 The book was a great start in helping other people called to make a difference and to express their life purpose through their writing. It's now time to take it much further, to provide a much more in depth way aspiring writers can learn how to publish and be paid for their writing talents.
I'm following a similar model that I used with my book, Life On Purpose: Six Passages to an Inspired Life that later led me to creating the Life On Purpose Virtual Video Coach. As personal development expert Steve Pavlina, who was a strong enthusiast for the book when it first came out, wrote later about the Virtual Video Coach:
"I read Brad's book and loved it; however, I gained much more value from his Virtual Video Coach. I was a bit surprised because I figured it would simply be a video version of his book. It does cover a lot of the same ground as the book, but I experienced the material in a totally different way."
Looking for Six Beta-testers
I see the same increase in value being possible from the From Spark to Flame Online Writers Course. There is one thing I want to do differently this time, and that is to work with some 'beta testers' during the creation process. Ideally, these six folks will:
Be interested in developing their writing talents,
Be open to pointing out the course's strong points, as well as
Making suggestions on what could make it more user friendly, understandable and valuable.
At the end of the testing be open to giving an overview of their experience with the course, including sharing their results.
The beta testers will receive:
Access to the private, password protected area of the website where they'll find the online videos that makes up the course, and also
A copy of the book, From Spark to Flame: Fanning Your Passion & Ideas into Money-making Magazine Articles that Make a Difference, upon which the course is based.
Personal interaction with me as their writing coach as they go through the course.
Interested in Being a Beta Tester?
If you'd like to apply to be a beta tester for this Purpose Project, send me an email to admin@lifeonpurpose.com with Spark Beta Tester in the subject line.  I'll send you back a short application for you to complete.  I hope to make the selection for beta testers within the next seven to fourteen days. Of course, there will be no charge to be a beta tester.  I see it being more of an Equal Energy Exchange collaboration.
Interested in the Book but not Beta Testing?
That's fine. I understand. You can purchase the book either as a Kindle edition or quality paperback edition RIGHT HERE.