As you may re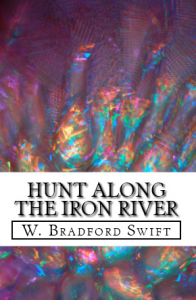 member if you've been following my antics through this web site, one of my strongest passions these days is writing visionary fiction and non-fiction including short fiction.  Growing up reading science fiction and fantasy, I feel it's my turn to give back by sharing my own speculative fiction stories.
So, this week, I'm offering one of my short stories, Hunt Along the Iron River, for free for Kindle users for three days but given this is Saturday, this is your last day.
Thursday, April 12
Friday, April 13
Saturday,  April 14
Just go HERE.
Remember, you can also read this story using a Kindle App on your PC, Mac, iPhone, iPad, etc. And you'll find a couple extra surprises included at the end of Hunt.  So, pay a visit to Amazon starting tomorrow and for the next three days to download your own copy of one of my favorite stories, inspired by my time at Clarion West Writing Conference.
Here's a little of what the story is about:
Taylor Webb is on expedition in South America searching for a rare tree frog reported by the native hunters to have mystical powers. When tragedy strikes at home, he's forced to cut the expedition short. Returning home, he finds himself on another expedition with deadly consequences and discovers there are just as many dangers in the concrete jungles of Atlanta as in the Amazon.
Download it for free Thursday through Saturday here:

And share this link with your friends who enjoy short fiction.