I've had on my "to do list" and future purpose project list to create my next purposeful product and passive income stream based on the book I published in 2009 – From Spark to Flame: Fanning Your Passion & Ideas into Money-making Magazine Articles that Make a Difference.
My vision for the online writers' course is to outline the proven, systemic process that I developed over the past 20-plus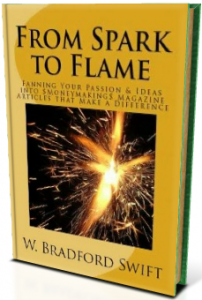 years that I've used to publish well over 350 articles in dozens of different national and regional magazines that has resulted in thousands of dollars of income for my family and me.  I've also taught this process in live classes, as well as developing a group of Visionary Writers On Purpose who used this process as part of our foundation.
Reading the excellent series by Steve Pavlina on How to Create Passive Income was just the impetus I needed to move this from the back burner to the front burner with a target date for completion of August 31, 2012. I also took Steve's advice to involve more people to keep up my enthusiasm long enough to complete the project. As Steve pointed out, involving other people in the project would also help me stay inspired to work on the project. I've certainly found that to be true.
My original plan was to work with six people who would be my 'beta testers,' and I laid out these criteria for beta testers:
Be interested in developing their writing talents,
Be open to pointing out the course's strong points, as well as
Making suggestions on what could make it more user friendly, understandable and valuable.
At the end of the testing be open to giving an overview of their experience with the course, including sharing their results.
And in turn the beta testers would receive:
Access to the private, password protected area of the website where they'll find the online videos that makes up the course, and also
A copy of the book, From Spark to Flame: Fanning Your Passion & Ideas into Money-making Magazine Articles that Make a Difference, upon which the course is based.
Personal interaction with me as their writing coach as they go through the course.
I sent out the call for beta testers and was thrilled by the response. In fact, the response was so good that I found it hard to narrow the list down to just six folks, so I expanded the size of the team to ten. I then set up a private Facebook group as a way for us to stay connected to each other.
Besides the beta team, my plan is to also give periodic blog updates here. I see this having multi-dimensional results:
It'll help keep me inspired,
Hopefully, it will provide something of value to you, my blog readers,
It'll start to get the word out about the online course.
So, stay tuned for a 'blow-by-blow' description of how this project continues to unfold, including the resources that I'm using to create this passive income stream that I envision could make a real difference with a lot of other aspiring visionary writers.