I was talking to my friend and writing colleague the other day, Joe d'Agnese, about the future of publishing — more specifically our futures as indie writers and publishers. Sure, we're fans of Kindle e-publishing. But, during the conversation Joe mentioned he'd not yet tackled the print-on-demand learning curve of CreateSpace. It's understandable. After all, publishing to Kindle is so easy, especially for those of us who use Scrivener software which both Joe and I do.
Since I have published a number of books and special reports via CreateSpace's print-on-demand approach in the past couple of years, I encouraged him to jump in and give it a try. Why?  Well, my number one reason is that it greatly expands the potential market for your book. After all, despite the rapid growth of e-books, there are still a lot — as in millions, maybe even billions — of people who still prefer holding an actual printed book in their hands.  And yes, there are still a few people who don't own a Kindle (or Kindle app). (Of course, that will change significantly after Dec. 25, when millions of new Kindles will be received as gifts). And the print-on-demand approach won't break the bank of a indie publisher.
After the conversation, during which I offered to help my friend with the not-so-steep learning curve of CreateSpace.com, I had the thought, "Wow, wouldn't it be great to create a screencast on how to get started with CreateSpace?"  In fact, it felt like such a great idea that I was surprised that CreateSpace didn't already have one.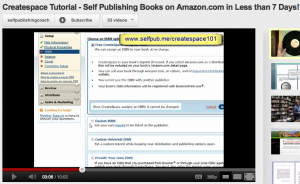 (Side Note:  I've recently purchased ScreenFlow screencasting software to use in producing the online version of From Spark to Flame. I figured this CreateSpace tutorial might be a good way to get more familiar with the new software. However, I also thought it could be more labor intensive and might actually slow down the Spark to Flame project)
Then I had another idea — what turned out to be a brilliant one. Yes, even I have such ideas once in a while.  I wondered if someone else might not have already thought to create a Create Space tutorial, so I went searching for one…and presto, in no time I'd found one, and much to my surprise, I knew the person who'd created it.
That person is Shelley Hitz of Self-Publishing-Coach.com. In fact, I have an email in my inbox from Shelley on one of her courses, "Get Your Facebook Page Done" that I'm taking. How cool is that.
So, I don't need to create something that Shelley has already done such a great job doing.  So, I dedicate today's blog post to Joe and to Shelley.  Who knows, maybe this will be a cyber-introduction that will pay off in unexpected dividends.
For sure, if you're like my friend, Joe, and haven't yet started publishing your books in a POD (print-on-demand) edition, this should eliminate the 'learning curve' obstacle.  Sure, publish on Kindle, maybe place some of your work on Kindle Select. Put them on the Barnes & Noble Nook, and Apple's iBookstore.  Just don't forget to offer a print book at the same time, and as Shelley points out, one of the best way to offer printed books is through CreateSpace's print-on-demand publishing. So, repeat after me. "I love CreateSpace." Well, you will after you start using it. By the way, CreateSpace has great customer service as well. Enjoy.